The Central Europe Cup T20 2021 is likely to take place in Czech Republic from 21st May. There are three teams taking part in this league. Actually there was four team but the forth team had to withdraw from the league due to covid-19 restrictions.
This is the Seventh Edition of Central Europe Cup but the first with an t20 format.
Overview
Tournament Name
Central Europe Cup T20 2021.
A total of 6 matches will be played.
Date & Time
21st May- 23rd May
10am – 2:30pm
Live Streaming Details
It will be streamed live in the official Youtube Channel.
List of Teams Participating in Central Europe Cup T20 2021
Austria
Luxemburg
Czech Republic
Central Europe Cup T20 2021 Today Match Prediction
| | | | |
| --- | --- | --- | --- |
| Date | Match | Prediction | Result |
| | | | |
| | | | |
Central Europe Cup T20 2021 Squad Details
Austria
Razmal Shigiwal (c)
Rayhaan Ahmed
Mirza Ahsan
Zeshan Arif
Aman Habibullah
Zabiullah Ibrahimkhel
Aqib Iqbal
Kunal Joshi
Lakmal Kasturiarachchige
Jaweed Sadran
Zadran Sahel
Mark Simpson-Parker
Navin Wijesekera
Bilal Zalmai
Czech Republic
Sudesh Wickramasekara (c)
Kushalkumar Mendon (vc)
Hilal Ahmed
Naveed Ahmed
Arun Ashokan
Sabawoon Davizi
Abul Farhad
Sahil Grover (wk)
Edward Knowles
Zahid Mahmood
Sagar Madhireddy
Smit Patel
Paul Taylor
Satyajit Sengupta
Ali Waqar
Sameera Waththage
Luxembourg
Joost Mees (c, wk)
James Barker
Timothy Barker
William Cope
Mohit Dixit
Atif Kamal
Pankaj Malav
Ankush Nanda
Aanand Pandey
Shameek Vats
Girish Venkateswaran
Vikram Vijh
Roshan Vishwanath
Tony Whiteman
Central Europe Cup T20 Schedule 2021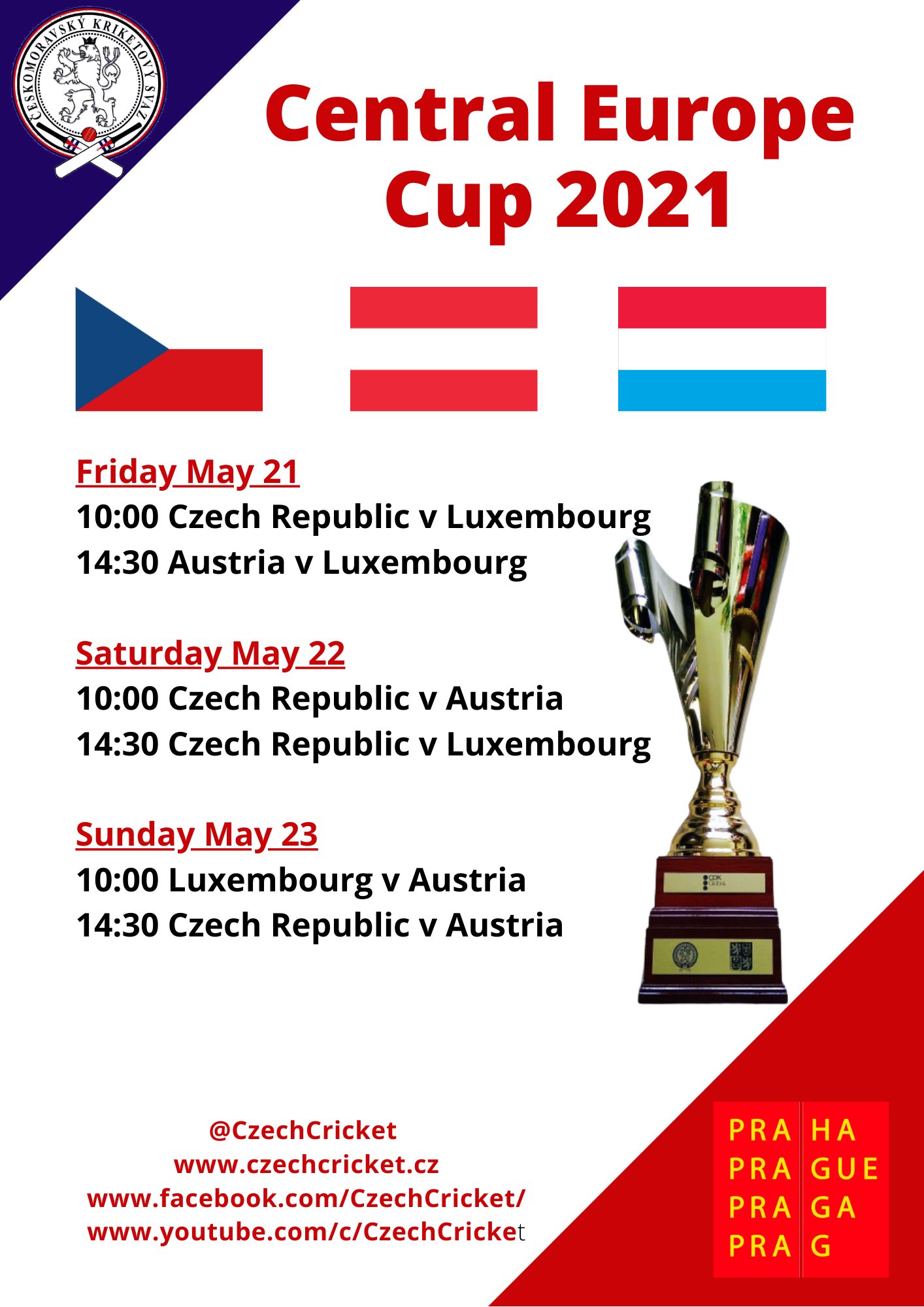 | | | |
| --- | --- | --- |
| Date | Match | Venue |
| 21st May 2021 | Czech Republic vs Luxemburg | Vinor Cricket Ground |
| 21st May 2021 | Austria vs Luxemburg | Vinor Cricket Ground |
| 22nd May 2021 | Czech Republic vs Austria | Vinor Cricket Ground |
| 22nd May 2021 | Czech Republic vs Luxemburg | Vinor Cricket Ground |
| 23rd May 2021 | Austria vs Luxemburg | Vinor Cricket Ground |
| 23rd May 2021 | Czech Republic vs Austria | Vinor Cricket Ground |
Central Europe Cup T20 Venue Details
Vinor Cricket Ground, Prague