Many people complain that their betting account was banned. Some even ask – "Is there any betting website, which doesn't ban?"
Seriously? We know that there some bad betting websites whose main motive is to earn money.
Those betting websites which have been there in the industry for years won't put account restriction without any reason. There must be some issue. Fortunately, we're on the same page to discuss why betting accounts get banned, what you can do to get your betting account back, and how can you avoid future betting account restrictions.

Why Bookmakers Restrict or Ban Betting Accounts?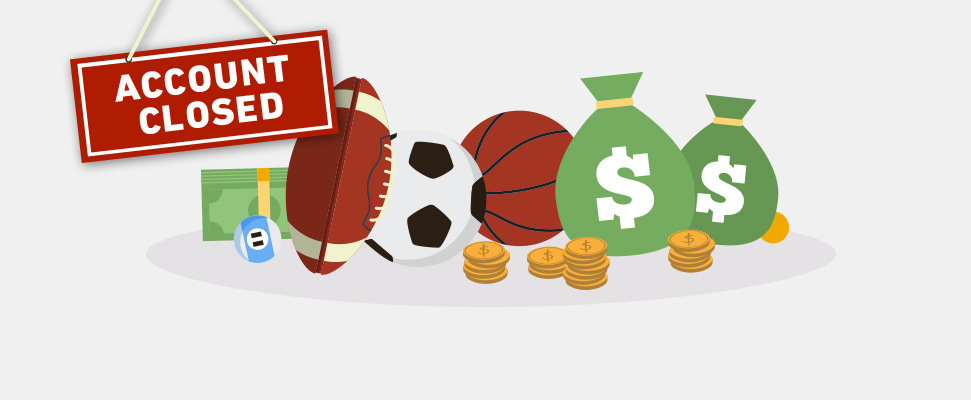 If you want to survive for long-term, you must get into the depth of why bookmakers restrict or ban betting accounts.
1. Aren't You A Profitable Punter?
Look! Nobody loves loss. If you're constantly beating the luck and earning profit from a bookmaker, you won't be able to continue betting with them. It doesn't matter whether they have identified your method of betting or not – if they know that you're making a profit in a continuous manner, you will be expelled.
2. Are You Coming Up with A Planned Strategy?
If you're trying to make a pattern and planned strategy to win, you're drawing attention towards yourself. Yes, they don't care whether you're getting profit or not, they care about patterns.
You may be wondering why they do care about patterns. Right?
Patterns alarm bookmakers about the unusual activities of the criminally minded bettors. As you know that arbitration and similar kind of practices are highly discouraged by many bookmakers.
3. Are You Affected In Any Way?
There can be possibly many things that may affect your account. Sometimes, the innocent ones also face issues due to those who appreciate wrong deeds. They tarred with the same brush.
If any person from your location tried to trick the system before, then there are higher chances of getting watched by the bookmakers.
Bookmakers pay attention to identities, areas, and even IP addresses. Please note that all these factors are not only applied to existing customers but also to the new ones. If your details have been already blacklisted on any of the bookmaker's database, you won't be able to create a new account.
4. Is Your History Filled with Promotional Abuse?
Bookmakers don't like to keep those customers who intentionally take advantage of their promotions & free bets. "Bonus Bagging" isn't tolerated at all. Your chances of getting ban depend on how frequently do you do it.
JOIN US ON TELEGRAM TO GET REGULAR UPDATES.
Also read: An Expert's Guide to Become A Professional Punter

How to Stay Away from Betting Account Restriction
Professional punters are surviving and continuously betting. Yes, there are some tactics that you need to adopt.
1. Round Your Stake
If you're actively betting, you should keep in mind that the betting amount shouldn't be exact same every time. Do you remember that pattern thing? That follows up till here. Let us give you an example. If you placed a bet of $250 yesterday, you should place a bet of $200 today. Keep changing the amount you spend like $100, $150, $200, $250, and so on. This practice will keep you out of the bookmaker's radar.
2. Pay Attention to Your Deposit
If you've just signed up to any website, don't try to deposit large funds into your account. The sum of your deposit should be enough for the next couple of bets. If you deposit large funds, you will draw bookmaker's attention right after the registration, which isn't good at all.
3. Don't Rely on One Bookmaker
Many people often underestimate the practice of switching bookmakers. Once you start switching, you can get a lot of arb opportunities. Although you will be seen as 'less successful' bettor, you'll stay on the safe as well as the beneficial side.
4. Keep Changing Your Information
We don't know how true it is, but there are rumours that bookmakers work together to identify bettors. It's a great initiative to keep separate login details. The benefit is – even if you've done anything wrong in the past, they won't be able to hunt you down quickly. Moreover, you can stay consistent without getting banned.
5. Never Brag About Your Betting Profits on Social Media
It's really fascinating to tell others about profits. But still, you should stay hidden because bookmakers are watching you everywhere.
Wait! Do you want to get out of their monitorization?
If yes, then do a few things. First, keep your social media email and betting account primary email different. Second, never stay logged in to your social media accounts whenever you visit a bookmaker. If you're a social media addict, you can use another browser. Third, use a separate browser like RebelBetting. Browsers like these never share your personal cookies and cache files.
6. Cover Yourself with Smart Moves
We already know that bookmakers restrict those bettors who continuously make a profit from them.
When we make a profit from a particular kind of bet, we're most likely to place that kind of bet repetitively. We can also name it as human behaviour. We incline towards the profit.
If you're also playing the same move, your bookmaker won't even think twice to restrict you.
The best way to stay concealed is to mix your profitable bets with mug bets. It's good to place some other random bets and lose some money instead of getting your account restricted.
Alright! This is all that you need to stay away from restriction. In case, if your account has been restricted due to any reason, you need advice.
Also read: All About Free Bets and Bonuses

What You Can Do with A Restricted Betting Account
First of all, accept the fact that it's common to get your betting account banned. Bookmakers often prohibit or limit accounts to keep their business alive.
If your account is banned, you can't do anything to get it back. In their terms and conditions, they clearly mention that they can ban whoever they want.
What matters is the reason for getting banned. Many punters face restriction because they tried their luck with arbitrage, matched betting, and even fraud tactics.
If you bookmakers have banned you being fraud, you won't get your money back. However, if you weren't fraud at all, then they will pay your money. In both scenarios, you should learn from your mistake and move on.
There are plenty of other bookmakers in the market.
OFFERS FOR YOU
BETWAY 2500rs Bonus JOIN NOW
1Ocric 7500rs Bonus JOIN NOW
1XBET 10000RS Bonus JOIN NOW
Also read : Risk Free Guide to Bet Almost every Cricket Bet
Summary
Article Name
Are You Worried About Betting Account Restrictions? Here's A Way to Fix it!
Description
Many people complain that their betting account was banned. Some even ask – "Is there any betting website, which doesn't ban?" Those betting websites which have been there in the industry for years won't put account restriction without any reason.
Nekraj bharitya
Expert Free Tips
Publisher Logo